Aaron Gessner, who was given the opportunity to participate in the SKZ Lab as an eighth grader, has now returned to the SKZ as a master craftsman student. And Mr. Gessner was also able to successfully complete his IHK advanced training to become a master craftsman in plastics and rubber.
April 6, 2023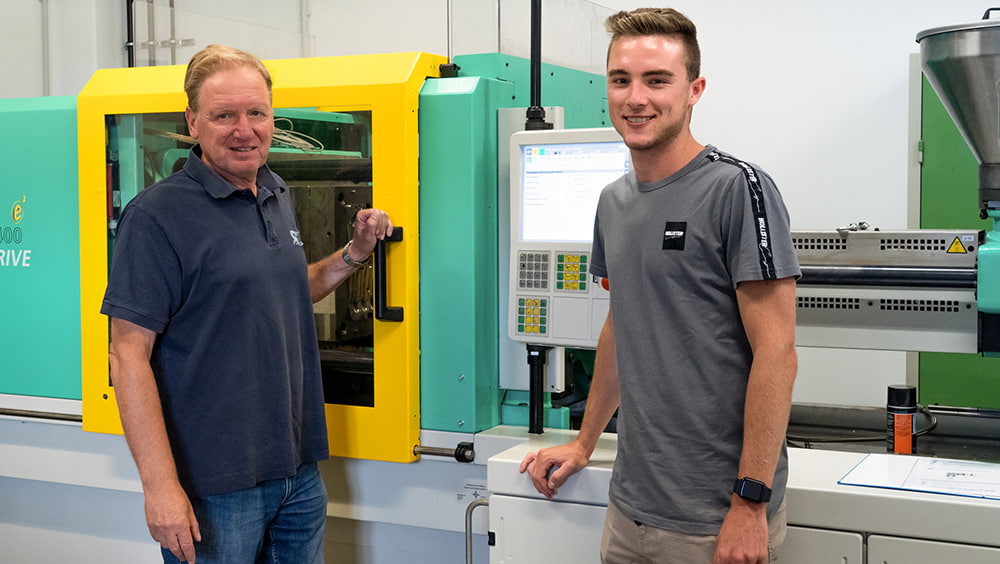 Ulrich Schätzlein, Senior Trainer at SKZ (left) and Aaron Gessner, master craftsman in plastics and rubber, who visited the SKZ-Lab as a pupil (Picture: Luca Hoffmannbeck, SKZ)
Former participant from SKZ student lab successfully passes exam to become master craftsman in plastics and rubber
At SKZ, it was recognized early on that a differentiated view of plastics already makes sense for students between the ages of 14 and 19, especially with regard to their future career choice. For this reason, the SKZ-Lab for schoolchildren was opened in Würzburg in 2010 and has since been successfully introduced at the SKZ in Peine. Within the framework of the SKZ-Lab, information is also provided about the classic training professions, courses of study, etc. in the plastics processing industry. At the University of Applied Sciences in Würzburg, for example, up to 15% of first-year students on the plastics technology course state that they have visited the SKZ Lab. The project is intended to give schoolchildren an insight into the day-to-day work of the company and, not least, to generate enthusiasm for the job profiles within the plastics industry.
The success of the project recently became clear to those responsible when there was a reunion with a former SKZ Lab participant in the master class. "That's when one of the master students actually started talking about our student lab and how it ultimately motivated him to learn to be a process mechanic," says Ulrich Schätzlein, senior trainer at SKZ. Aaron Gessner, who was allowed to participate in the SKZ Lab as an eighth grader, returned to SKZ to become a master plastics and rubber technician. Mr. Gessner has since also successfully completed the IHK continuing education program.
"In fact, I still remembered Uli. The practical part during the master craftsman course was more in-depth, but that's how you learn practical application," emphasizes Mr. Gessner in an interview with SKZ. "The training position as a process mechanic was a bit further away from my home in Würzburg, but I would always choose this industry again with its great opportunities for further development."
Actions such as the school lab are thus a small but important building block for a promising industry that deals with current topics such as battery technology or the energy and traffic turnaround, which would not be possible without plastics. In another student environmental laboratory with a focus on plastics and sustainability, the topic of sustainability has also been intensively examined at SKZ since 2020.
Further information on our German website
about master craftsman in plastics and rubber (IHK) and SKZ-Lab