The German Plastics Center (SKZ) is reorganizing its research and education in injection molding and additive manufacturing by moving into the new model factory in Würzburg. The aim is to further strengthen the competencies of these specialist areas and to further expand the institute's position as a leading application-oriented competence center for injection molding and additive manufacturing in Europe.
April 25, 2023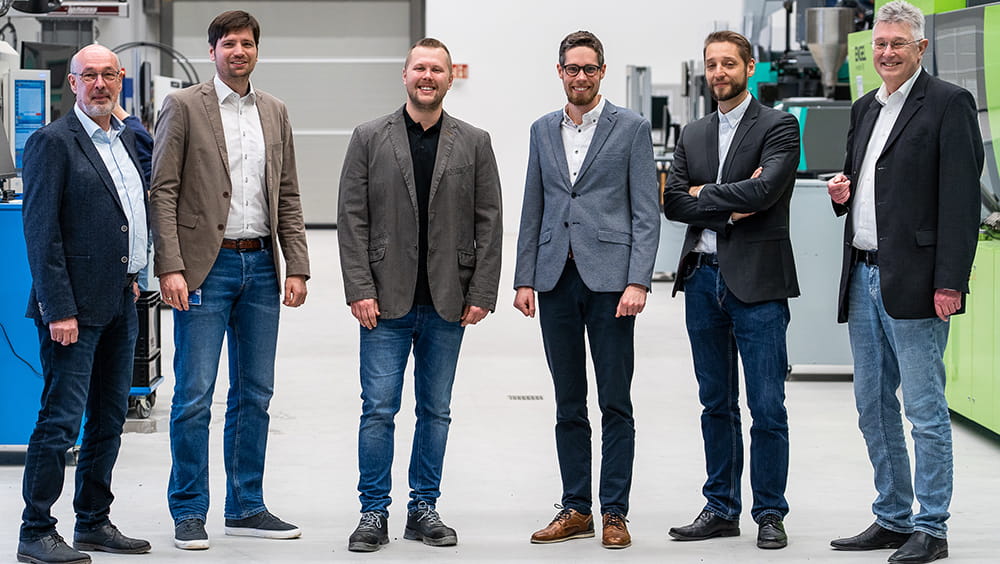 The restructured team in injection molding and additive manufacturing at SKZ: Robert Held, Bernhard Hennrich, Christoph Mussauer, Adrian Beetz, Christian Deubel, Georg Schwalme (v.l.n.r.) (Photo: SKZ, Luca Hoffmannbeck)
SKZ strengthens competencies for application-oriented research and training
With the reorganization, SKZ continues to focus on innovative, application-oriented research and development and the optimal transfer of industrially implementable results to industry. This is achieved through ongoing and new research projects in close cooperation with partners from industry and SMEs, as well as the professional implementation of industry requests. For knowledge transfer, the focus is on customized solutions in combinations of digital educational offerings and hands-on courses on state-of-the-art injection molding machines and additive manufacturing systems.
The competent experts in the team of division leader Georg Schwalme are now divided into five groups under the leadership of experts with many years of experience:
Under the leadership of Bernhard Hennrich, the injection molding research group is expanding its extensive portfolio of expertise to include, for example, the field of liquid silicone rubber(LSR). In addition to the new topic area, the team continues to conduct intensive research on established focal points, such as coloring of injection molded parts, fiber incorporation into thermoplastics, foaming of thermoplastic components, digitization, injection molding of thermoplastic elastomers and injection molding of thermosets.
Adrian Beetz is leading the additive manufacturing research group into new areas of application with innovative printing processes. In doing so, the team continues to focus on the processes Powder Bed Fusion (PBF) with Laser Sintering (LS), Material Extrusion (MEX) with Fused Layer Modeling (FLM) and Arburg Plastics Free Forming (AKF) as well as Photopolymerization with Digital Light Processing (DLP). New application areas in the processing of high-temperature thermoplastics and the production of micro-components are currently being expanded. This is relevant for many industries ranging from craft and mechanical engineering to automotive, medical technology, and aerospace.
The expansion of training activities in hands-on courses and digital offerings is the responsibility of Robert Held. Web-based training units, online courses and hands-on training directly on the machines offer training packages that are optimally put together for each customer and can also be individually combined for training events directly at the customer's site.
For qualified services on injection molding processes, Christian Deubel is the central contact and coordinator for customers from industry and trade. The broad range of industrial services already available will be further expanded so that the needs of plastics processing companies can be met even more effectively. In addition to the production of standard and special test specimens and components, the focus will be on more complex tasks from industry and on on-site process consulting.
The state-of-the-art injection molding center with its extensive machine and mold park is now under the management of Christoph Mussauer. Injection molding machines of various makes with tumblers between 50 and 500 tons are represented there. Almost every machine is assigned to a special process or purpose. Examples include 2K injection molding thermoset and LSR processing, thermoplastic foam molding (TSG) or the incorporation of glass fibers directly from the roving (FDC).

Further information about the special departments
Additive Manufacturing: research and training
Injection Molding: research and training