Injection molding is probably one of the most economical options when it comes to producing identical components in large quantities. In contrast, additive manufacturing ("3D printing") has positioned itself in recent years - not as a competitor, but as a complementary option for producing individualized models. As different as these two manufacturing processes are, they often go hand in hand. The following illustrates the optimization of the injection molding process using additively manufactured components.
October 11, 2022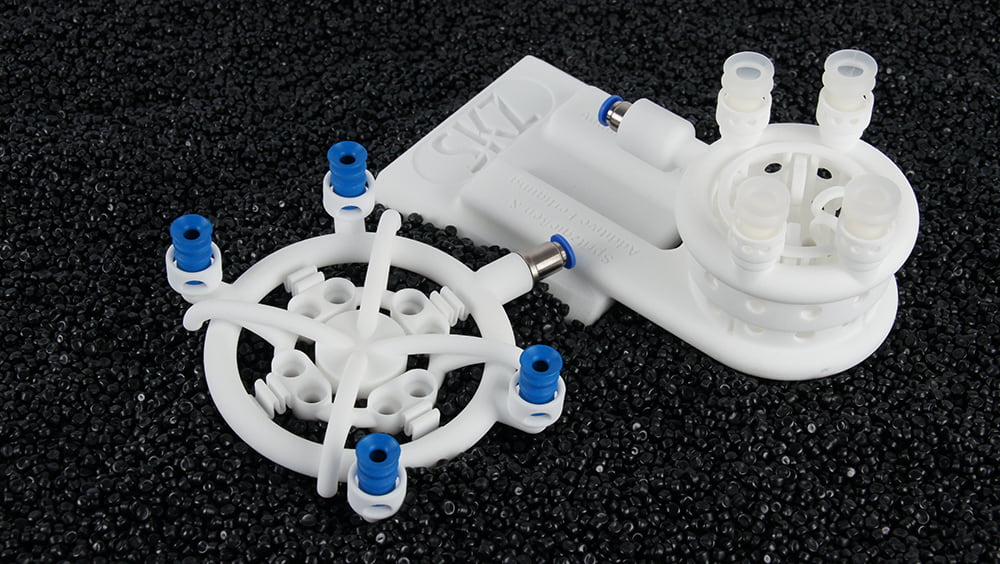 Individually manufactured grippers from the 3D printer offer numerous advantages. (Image: SKZ)
3D-printed grippers increase efficiency in the injection molding process
The challenge
Injection molded parts must be removed from the cavity. For this purpose, grippers adapted to the respective component are used, for which the following requirements exist, for example:
The gripper should be light. Very large systems in particular (e.g. for multi-cavity injection molds) quickly reach a high weight if they are made of metals and also solid.
The gripper should contain air ducts for suction and additionally have spring elements installed. These requirements quickly lead to complex gripper geometries, the manufacture of which inevitably involves many steps due to the assembly of several subassemblies.
For reasons of economy, the gripper should be available as quickly as possible.
When in-line quality assurance systems are used, component-protecting repeatable positioning is essential.
The solution
In terms of lightweight properties, the use of plastics is a good choice. Powder-based additive manufacturing processes, such as laser sintering, in many cases provide the greatest degrees of freedom for the complexity of the model to be manufactured. On the one hand, this allows for further structural and weight savings, since the parts do not necessarily have to be massive. On the other hand, functions such as suspensions and air ducts can be integrated so that the finished gripper is created in one piece and additional manufacturing steps are not required. Accordingly, the system is available more quickly, especially for replacements.
The implementation
Getting the maximum functionality out of additively manufactured grippers requires a rethink in modeling, since 3D printing requires a different design than one is used to for conventional manufacturing. In addition, not all 3D printing is the same - each additive manufacturing process has its own unique requirements for a CAD model. As a result of the fact that very complex geometries can be produced, generative design is also becoming increasingly important. This means that the CAD program automatically calculates the model using predefined boundary conditions. One example of this is the gripper base plate shown: Compared with standard systems, the weight and notch stresses are significantly reduced here thanks to the bionic design optimized for laser sintering.
The pioneer
Christian Deubel, senior engineer in the injection molding/additive manufacturing department at SKZ and designer of the grippers, is certain: "Additively manufactured removal grippers are the innovative future and it is impossible to imagine optimized injection molding production without them." In the SKZ course "Design for Additive Manufacturing" (optionally online or in presence), participants learn the basics of selected processes and their plastic-based model materials from 3D printing experts in three days. Furthermore, valid design rules and possibilities are taught in order to implement ideas additively. The course is aimed at technicians and engineers with previous experience in CAD.