In the course of the expansion of renewable energies, district heating is a sustainable component of energy supply that is becoming very important. SKZ successfully certifies companies in the district heating segment according to AGFW FW 605.
April 27, 2023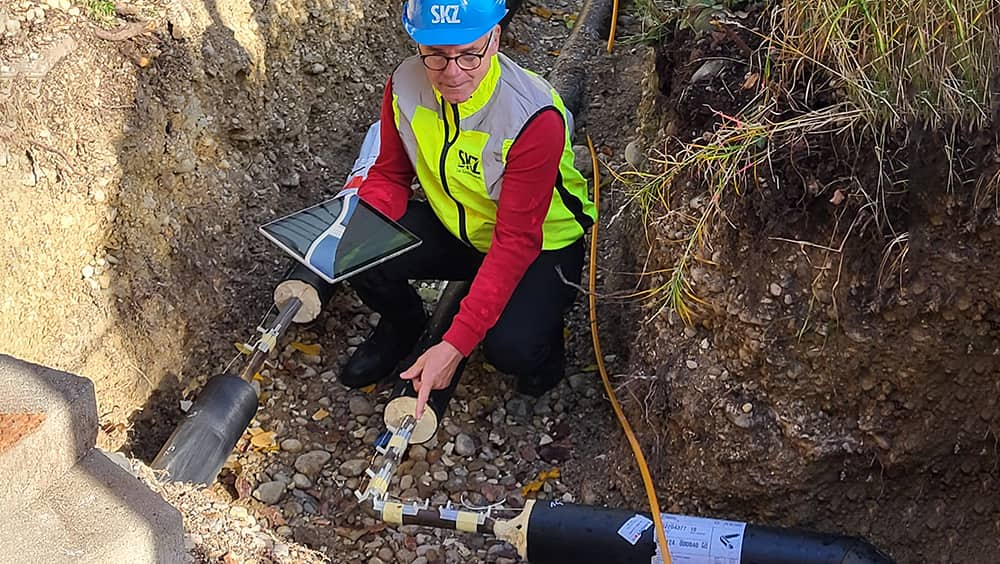 Robert Schmitt, Managing Director of Certification at SKZ, in a construction trench inspecting a district heating pipeline. (Photo: SKZ)
SKZ offers certification for companies with joint installation work in accordance with AGFW FW 605
The experience of the SKZ certification body shows that certification can reveal weak points at an early stage and significantly reduce error rates. By commissioning an appropriately certified company, the client thus receives a much higher-quality and more sustainable system. In the district heating segment, however, the topic of certification according to AGFW FW 605 is still largely unknown. "Pipeline construction companies can even save costs with the help of the certificate," explains Robert Schmitt, managing director of certification at SKZ. "I would be happy to inform interested companies about this personally."
A district heating pipeline should be very reliable and have a long service life. However, laying these pipes is a complex process that must be carried out with care and know-how. Joint fitters are well trained and have to put their skills into practice in the trench. In this confined space, the fitters must foam, weld, glue and pressure test the manufactured pipeline. Under time pressure, mistakes can happen at this point. The handling of chemicals must also be carried out with the necessary caution.
The requirements for companies carrying out joint installation work are described in detail by the AGFW (Arbeitsgemeinschaft Fernwärme e.V.) in the AGFW FW 605 worksheet. SKZ offers company certification in accordance with this AGFW code of practice.
Further information about business unit certification