The SKZ Plastics Center is receiving a slow-turning OneCUT PRO 100-33 toothed roller mill on permanent loan from Rapid Granulier-Systeme GmbH & Co. KG. This means that the institute is now able to grind in both extremely hard and reinforced materials.
April 26, 2023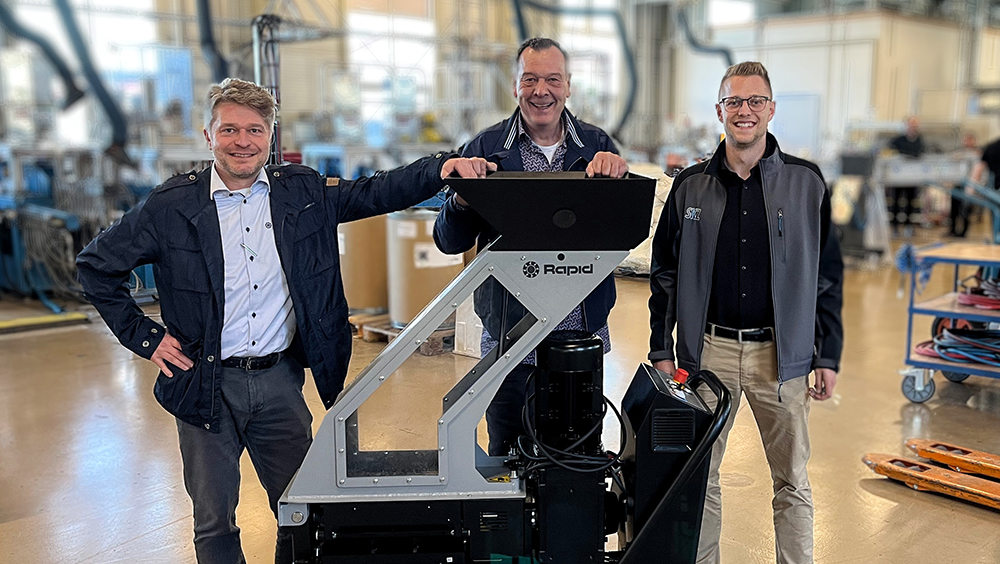 Robert Blum from Rapid Granulier-Systeme GmbH & Co. KG hands over the new toothed roller mill to SKZ Technical Center Manager Kersten Kurda and Scientist Tobias Göbel (from left to right) (Photo: SKZ)
New toothed roller grinding mill from Rapid Granulier-Systeme GmbH & Co. KG completes the equipment
"With this loaner, we will be able to meet the ever-growing interest in recycling regrind materials at our site in Würzburg," says Kersten Kurda, Technical Center Manager Compounding & Extrusion. He expresses his gratitude for the provision of the machine: "The loan enables us to apply the latest technology from Rapid Granulation Systems in our pilot plant for current research."
The Rapid OneCUT PRO is an efficient energy-saving low-speed machine capable of producing high-quality regrind. It benefits from a number of unique innovations including FlexiSPEED technology and an open design that greatly simplifies cleaning and maintenance. With a straight cut and offset cutting segments, the new toothed roller mill is capable of producing regrinds with an edge length of 5 mm at a throughput of up to 35 kg/h without fines. The regrinds produced can be regranulated on almost any compounder/extruder in the pilot plant or processed directly. SKZ would like to thank Rapid Granulier-Systeme GmbH & Co. KG for providing the machine.
The toothed roller mill complements the existing repertoire of comminution technologies at SKZ consisting of granulators, centrifugal mills and granulators. As a result, variable regrind sizes and quantities ranging from a few kilograms to several tons can now be produced.