The basic tasks of a continuing educator include covering new topics and further developing existing educational formats in terms of content and didactics. At SKZ, the conditions are optimal due to the close integration of research and education, so that many new courses can also be offered in 2023.
October 18, 2022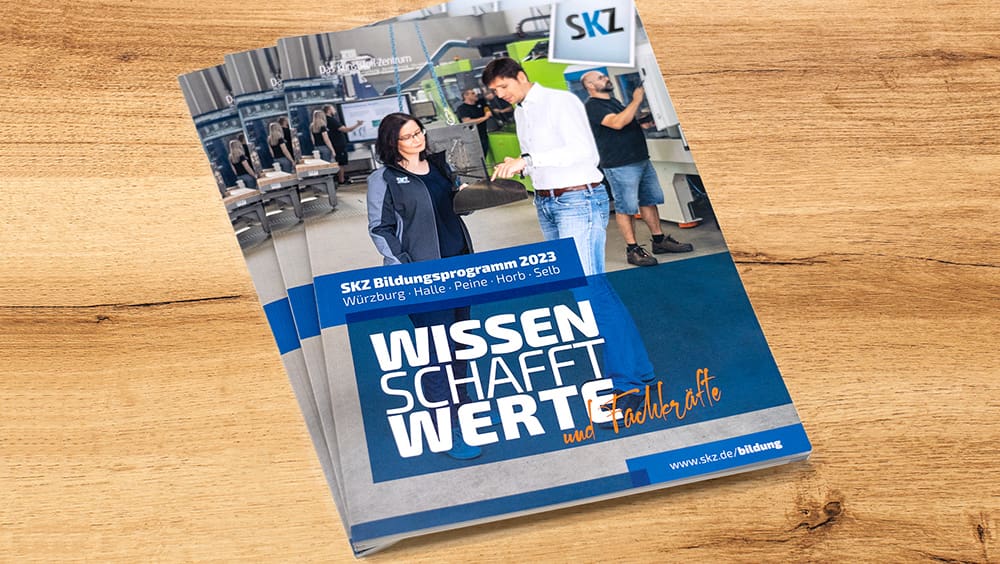 The new SKZ training program is now available. (Image: SKZ)
SKZ is expanding its education portfolio for 2023 with courses on thermosets, blown film extrusion, packaging and much more
The SKZ is growing. In 2023, the so-called Modellfabrik will go into operation, allowing the most modern production processes to be mapped. Numerous new areas in the form of pilot plants and laboratories are available for research. Therefore, there will also be no lack of input for the educational formats. The range of topics for professional development at Europe's largest plastics institute will grow in 2023 to include topics such as thermosets, regulations for food packaging and blown film extrusion.
"The content of our courses is constantly being revised. In the industrial environment, it is simply a basic requirement to always convey the current state of the art. That's why innovative topics from our research are also incorporated directly. Personally, I am very much looking forward to the new courses on blown film extrusion, which we will also be able to hold with practical exercises thanks to a new facility in 2023," explains Matthias Ruff, Head of Sales at SKZ.
In addition to the basics of thermosets in material science and processing, special topics such as filled microcapsules in plastic compounds will also be covered. The SKZ is thus growing in its range of further education courses in order to update and expand the educational standard of specialists. Interested parties can find out more about the courses on offer at the K trade fair in Düsseldorf from 19 - 26 October 2022 at the SKZ stand in Hall 10 G09.
Further information on SKZ trainings