SKZ successfully completed the research project to increase the resolving power of thermographic tomography using pulse compression methods. The project investigated how the resolution of thermography can be improved and how depth information can be better separated.
April 3, 2023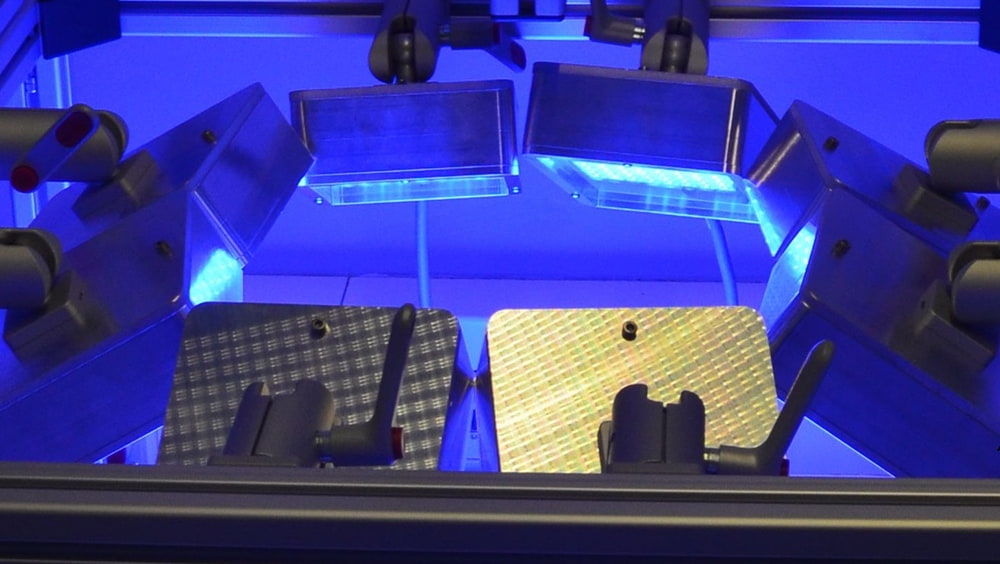 The LED system specially developed for thermography at work. (Photo: SKZ)
Successfully completed research project enables tomographic representation of measurement data
The aim of the research project was the tomographic, quasi-3D representation of the recorded measurement data. For this purpose, the methods of pulse compression were used, by which temporally high-resolution data with a large signal-to-noise ratio could be obtained. The use of an LED emitter system in the wavelength range of blue light, which is new for thermography, ensured a high degree of flexibility with regard to the necessary thermal excitation as well as a high degree of practicality. Compared to the conventionally used halogen spotlights or flash lamps, LED spotlights are particularly energy-efficient and thus contribute to more sustainable production in addition to the resource-saving potential of high-quality quality control.
"We are very pleased that with this research project we have been able to make a further contribution to the further development of industrially pioneering testing techniques," says Pierre Pfeffer, head of the research project at SKZ. "We are confident that the results of our research project will find their way into practically applied industrial quality assurance in the future." The project was funded by the German Federal Ministry of Economics and Climate Protection (BMWK) under the Industrial Cooperative Research (IGF) program and accompanied by a committee of interested companies.
Active thermography is a non-destructive testing technique used in industrial quality assurance to detect defects or flaws in materials or components. Here, the actively generated heat radiation of materials is measured in order to draw conclusions about the internal structure of the test specimen. Thermography has become increasingly important in recent years, as it enables not only non-destructive but also fast, two-dimensional and direct imaging inspection of components.