German Plastics Center (SKZ) and the Fraunhofer Institute for Manufacturing Technology and Applied Materials Research (IFAM) have launched a collaborative project to build a fundamental understanding of the damage to bonded joints caused by additive migration. The aim of the project is to prevent this damage by applying suitable atmospheric pressure plasma coatings in order to increase the long-term stability of bonded joints.
October 27, 2022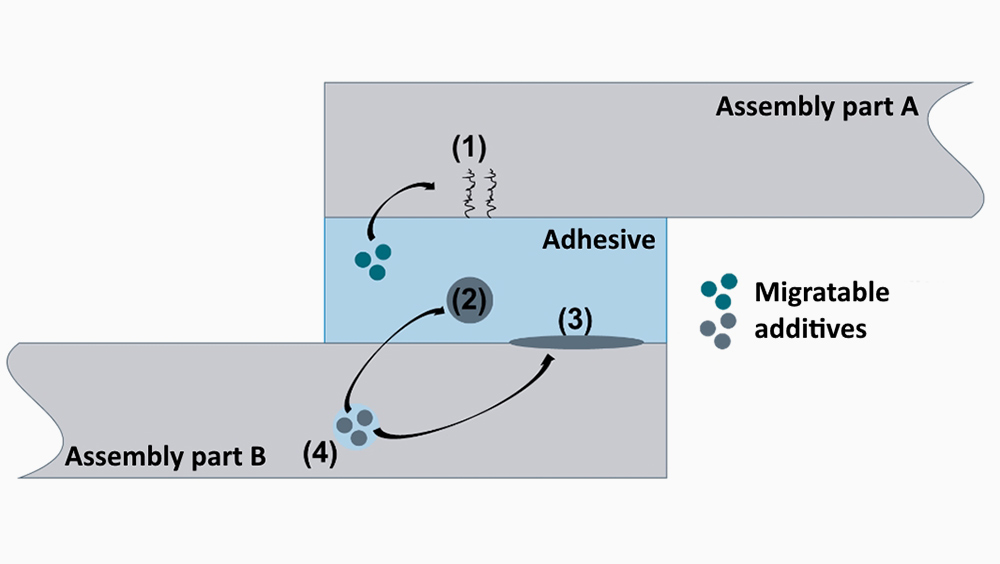 Schematic representation of the damage to bonded joints that can be caused by additive migration out of or into the adhesive: Stress cracks (1), plasticisation or cohesion disturbance (2), adhesion disturbance (3) and embrittlement (4) (Illustration: SKZ)
German Plastics Center (SKZ) and Fraunhofer IFAM launch research project
Environmental stress cracking (ESC) is the most common damage mechanism leading to the failure of plastic components. It is estimated that about 25% of all damage to plastics can be attributed to this mechanism. In addition to external influences, additives in adhesives can also lead to stress cracks in the polymer (adhesive-induced ESC). In addition, in the opposite direction, additives from the polymer are able to cause damage to the adhesive bond by migrating into the adhesive (adhesion disturbance and adhesive plastification).
The SKZ and the Fraunhofer IFAM now want to work together to develop solutions to prevent damage caused by additive migration in plastic adhesives by depositing atmospheric pressure plasma coatings. First of all, research is to be carried out into which of the additives used in established adhesives and plastics migrate out of the adhesive or plastic and can lead to the formation of stress cracks in the plastic or to the degradation or debonding of the adhesive.
The aim is also to develop protective coating systems to suppress additive migration in the interface between adhesives and plastics. These are applied directly after a surface pre-treatment by means of atmospheric pressure plasma and examined for their barrier effect and adhesion properties. Interested companies are cordially invited to participate free of charge in the committee accompanying the project.
The project with the funding code 22500 N is funded by the German Federal Ministry of Economics and Climate Protection (BMWK) through the German Federation of Industrial Research Associations (AiF) within the framework of the programme for the promotion of joint industrial research (IGF) on the basis of a resolution of the German Bundestag.