As it did in 2021, SKZ is once again awarding the "Premium Partner Education" distinction to ten companies that are working with SKZ to advance continuing education in the plastics industry. Pöppelmann receives the SKZ Premium Partner Education 2021 award for its comprehensive and innovative cooperation in education and training in plastics technology.
November 17, 2022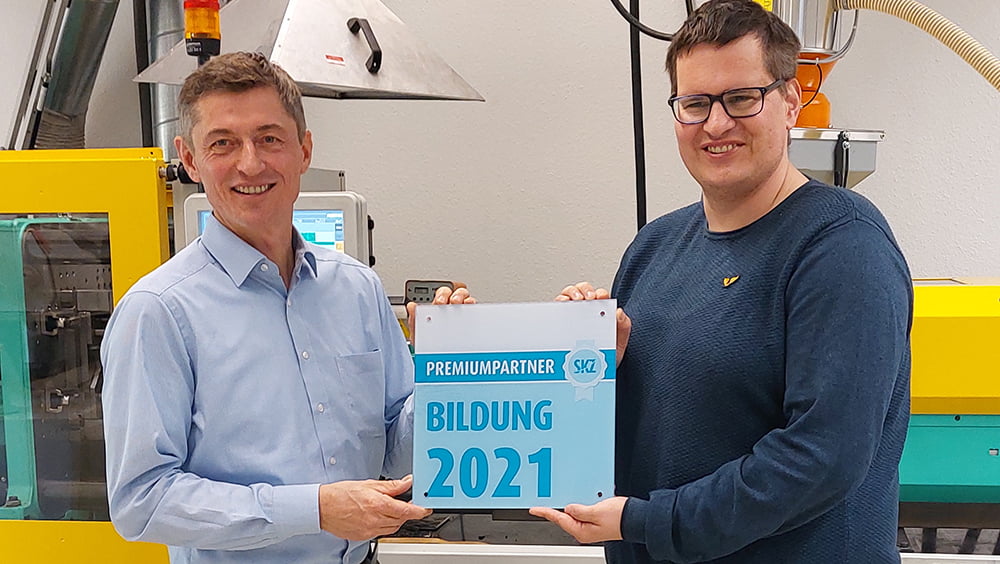 André Dupont, Location Manager of SKZ in Peine (left) and Jens Haskamp, Head of Training Pöppelmann GmbH (Photo: SKZ)
Comprehensive and innovative cooperation in education and training in plastics technology
"The shortlist of candidates includes companies that work with us to develop innovative learning formats, sustainably promote and expand employee training, and decisively advance the plastics industry beyond the standard through professional training," reports André Dupont, site manager at SKZ in Peine. The award is always presented for the previous year. 2021, Pöppelmann GmbH and the SKZ jointly conducted training courses for trainers.

SKZ's many years of expertise in exam preparation
"The courses are optimally tailored to our group of participants. Both the scope and the flexibility of the content and the way in which the knowledge is imparted represent added value for work in the company. The lecturer's expertise makes the course exciting and comprehensive," concludes Jens Haskamp, head of training at Pöppelmann. The Pöppelmann trainers need extended competencies in order to optimally prepare their apprentices in process mechanics for the AP1 and AP2 intermediate exams. "We want our trainees to achieve top grades. That's why it's important that our trainers give their apprentices the tools they need to do this outside of vocational school. We have decided to work with SKZ Peine in this regard. We know from the committee activities of the responsible IHKs that the SKZ in Peine has many years of expertise in the area of exam preparation," Haskamp continues.

SKZ contributes to securing the skilled workforce
After SKZ Expert Trainer Andreas Grzeskowiak had already successfully imparted knowledge of semi-finished product processing in 2019, the focus in 2020 and 2021 was on expanding knowledge in terms of injection molding, foaming, pressing, blow molding and thermoforming. He, too, is pleased with the good cooperation and the contribution of the SKZ in Peine to securing skilled workers at the renowned Pöppelmann company. "We have now already been able to hold several training courses for Pöppelmann's trainers. In doing so, we coordinate the course content individually and offer practice and theory both at our location and at the customer's site," says Grzeskowiak.