SKZ is expanding its free knowledge offering with an additional whitepaper. With the topic "Foam Analysis", this whitepaper offers solution approaches for the currently significant product group of plastic foams and their testing.
March 30, 2023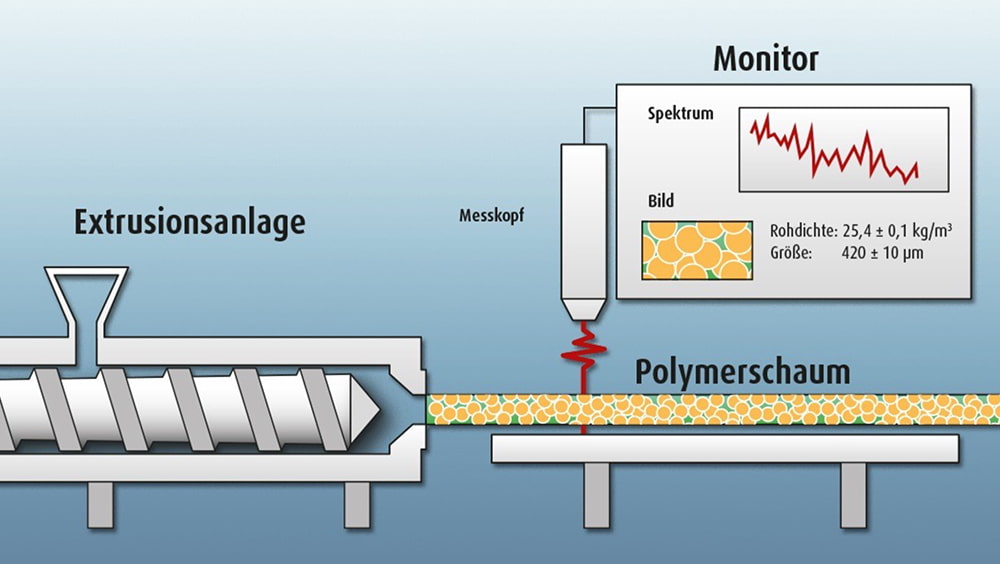 Schematic representation of the measuring arrangement of a radar sensor in reflection geometry at the end of an extrusion line for measuring the most important parameters of polymer foams. (Image: SKZ)
Whitepaper describes quality assurance for plastic foams in detail and provides optimization options
Until now, the metrological monitoring of specific parameters and characteristics of plastic foams was only possible at great expense in the laboratory and was associated with high personnel and material input. The SKZ whitepaper on foam analysis shows here a continuous, non-destructive and inline testing methodology developed at SKZ in cooperation with the company TRILITEC. "Our new whitepaper describes in detail what is important in quality assurance for plastic foams and shows ways to optimize it in the future and even perform it continuously in real time. The system has now been commercialized and can be tested at SKZ at no cost if interested," explains Matthias Ruff, Head of Sales Education and Research at SKZ. The multi-page document, like all SKZ white papers, can be requested free of charge from the SKZ website.
Foamed plastics have become increasingly important in recent years against the backdrop of sustainability. Foamed components can reduce weight and thus fuel consumption. Used as insulating materials, they contribute directly to energy savings. Acoustic insulation with good mechanical properties are also among the positive characteristics of foamed plastics. However, the advantages are highly dependent on the foam quality. Unintended cell sizes, raw densities, but also blowholes and foreign bodies can have a significant negative impact on the properties.