On June 29th, the annual Network Day took place at SKZ in Würzburg. A special highlight was the presentation of the new injection molding technical center, where many exhibitors found their place. With the commissioning, three areas with a total of 12 injection molding machines are now available.
August 9, 2023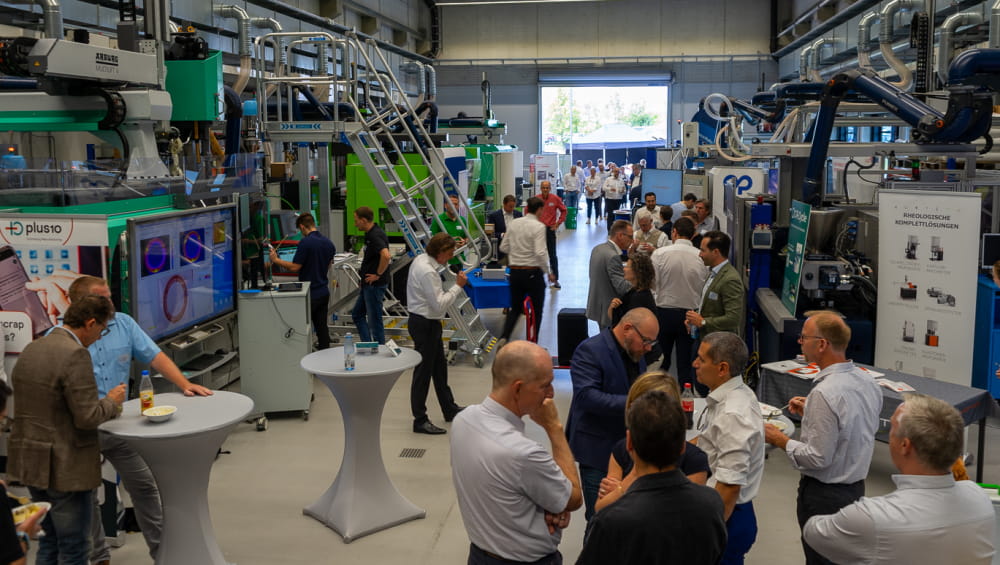 View of the Injection Molding Technology Center at the SKZ Network Day (Photo: SKZ)
With the commissioning of the new technical center, the injection molding capacities for research, education and industry have been significantly expanded
Some 300 interested network members attended the event at the new SKZ model factory on June 29. In particular, the new, large injection molding pilot plant provided space for many exhibitors. The largest of the three pilot plants contains mainly special injection molding processes and is available for research activities as well as for companies as a platform for trials with molds, materials and individual questions. Between the modern machines, visitors were able to learn about the latest developments and products at the exhibitors' booths. The topics of sustainability and the combination of innovative technologies for manufacturing were demonstrated live on two injection molding machines.
The largest machine at SKZ, an Arburg 920 S with a clamping force of 5,000 kN, was used to produce a large stacking box made of ABS (Teluran ECO, Ineos Styrolution), which consists of 30% post-consumer recyclate (PCR). The surface quality, strength and processability were every bit as good as the virgin material.

A 2K Frisbee ring was produced on an ARBURG multi-component machine (Allrounder 570A). The PC inner ring was colored directly on the machine using liquid color and HNPM's leak-free, compact smartDoS metering system. The pre-tip ring was transferred to the mold using a custom designed and 3D printed gripper system. For quality assurance, an inline thermography system was used to record the entire surface temperature of the part immediately after ejection, check for defects (over/under molded areas, process consistency, etc.), and decide whether a good or bad part was present. Via a data interface, plus10 recorded and displayed the status and process parameters of the machine, hot runner controller and temperature control units, calculated predictions of part quality and made suggestions for troubleshooting.

New injection molding technology centers 100% operational!
During the move to the new buildings, all 12 injection molding machines at the Würzburg site found an optimal location. With the commissioning of the model factory, three areas with machines from all renowned manufacturers from 500 to 5,000 kN are now available to industry and course participants:

In our training area, courses in theory and practice take place. Students gain practical knowledge of the injection molding process, mold technology and thermoplastics using various control systems.
The SKZ Student Laboratory offers school classes, trainees and companies the opportunity to "play company" for a day. The participants form groups with different focuses (e.g. production, marketing, etc.) and thus get to know the different departments and interfaces of the company.
The third and largest area is dedicated to special processes (e.g. TSG, multi-component injection molding, thermoset processing, etc.). This is where research projects and industrial orders are processed. In addition to simple (standard) test specimens, materials and tools are sampled here and customer-specific tests are carried out. Customers can also attend complex tests in person at any time.

SKZ would like to thank ARBURG for providing the mold and Ineos Styrolution for providing the material. SKZ would also like to thank all exhibitors, network members and visitors for their participation in this successful event and the many interesting discussions.
Further information about training courses injection molding
and research activities injection molding