Additive manufacturing processes are now established for numerous applications. On the part of industry, the demand for further training opportunities is increasing in order to fully exploit the potential of 3D printing. The German Plastics Center (SKZ) offers numerous courses and training programs in this area.
April 12, 2023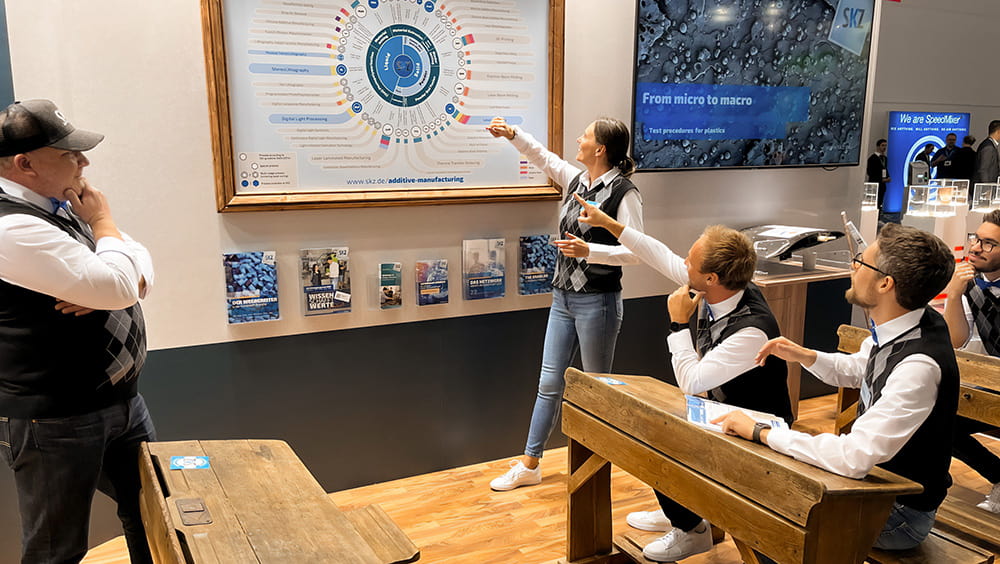 There is a great deal of interest in advanced training courses in the field of additive manufacturing. (Photo: SKZ)
The range of courses and training courses on additive manufacturing has been expanded
Like most things, 3D printing also wants to be learned. Technologies such as FDM, laser sintering, stereo lithography, etc. have long since arrived in practice and no longer eke out a shadowy existence as pure prototype technology. Nevertheless, knowledge about the correct application, the selection of a suitable printing process or simply the existing possibilities is often expandable. This has now been recognized by numerous companies in the plastics industry, and the demand for training courses on 3D printing has risen sharply this year. The SKZ has responded to this. "We have already received noticeably more requests for further training in various areas of additive manufacturing since the middle of last year. That is why we have already massively expanded our range of courses, seminars and training courses for 2023. In particular, in-house workshops as an introduction to the topic are increasingly in demand," emphasizes Robert Held, Group Manager Education Additive Manufacturing and Injection Molding.
The courses offered at SKZ include introductory and overview courses as well as training on process engineering or even on the specifics of designing parts with the degrees of freedom offered by 3D printing. Customized courses according to company-specific requirements are also possible.
The offering is rounded off by training to become an industrial technician specializing in additive manufacturing, which is carried out in collaboration with the Würzburg Chamber of Industry and Commerce. This is intended to continue to meet the industry's training needs in the future and create a standard of knowledge for the technology. "Education is always the basis for developing the potential of a technology. That's why we also want to pass on the knowledge gained from many years of research in 3D printing of plastics to our customers," explains Matthias Ruff, Sales Manager Education & Research.
Further information about courses additive manufacturing