The Spectroscopy Research Group at SKZ deals with a wide variety of topics in the field of quality assurance and metrology. Group leader Dr. Linda Mittelberg gives an overview of the field of activity and answers questions from SKZ podcaster Alexander Hefner.
March 9, 2023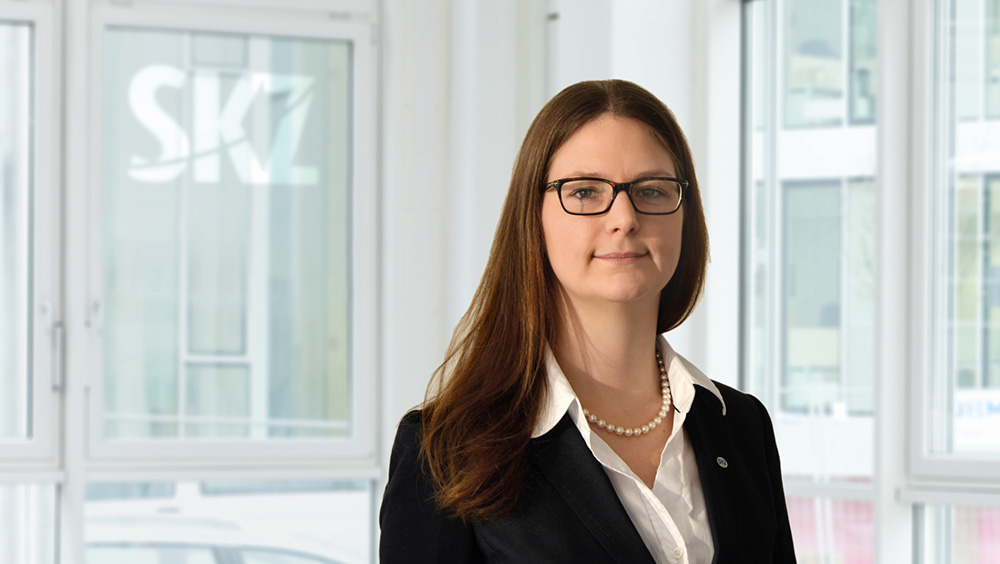 [Translate to Englisch:] Dr. Linda Mittelberg, Gruppenleiterin Spektroskopie am SKZ (Bild: SKZ)
Group leader Dr. Linda Mittelberg gives an overview of the group's research fields in an interview.
Hefner: Linda, spectroscopy is primarily measurement technology, isn't it? What exactly does your group do and what fascinates you about what you do?
Mittelberg: Yes and no. In spectroscopy, we use measurement technology to study properties of materials. This can be a classic color measurement for quality control, where we use existing measurement systems. However, we also develop measurement technology further, for example, to be able to determine the gas permeability of materials more quickly. In addition, the evaluation and analysis of data are very important. This makes it possible, for example, to reliably detect and quantify additives in highly filled plastic melts or different polymers in a recycling fraction. I am particularly driven by the improvement of quality assurance in plastics recycling. Here, there is great potential for spectroscopic measurement technology for non-destructive and continuous quality assurance, be it color, material composition or material degradation. This can increase the quality of the material and bring us closer to a true circular economy.

Hefner: What is currently your favorite project?
Mittelberg: We recently completed a project on the inline quantification of additives in highly filled melts using UV/VIS/NIR spectroscopy, where we were able to reliably quantify additives at 0.1 wt% despite 50 wt% filler. We now want to build on these results and transfer what we have learned to other techniques (e.g., hyperspectral imaging, HSI) as well as other materials, especially recycled materials.

Hefner: You also have colorist training going on in the field. Why is color such an important topic in the plastics industry?
Mittelberg: Color is often the first feature that catches the eye. We tend to draw conclusions about the quality of a product based on its appearance. It is therefore important that the so-called appearance of consumer goods signals to the customer: Here you are buying a high-quality product, because if the color is right, the quality is right. In addition, color is very often an important part of brand recognition or corporate identity. Whether in the supermarket or the hardware store, I already recognize many brands by their color. In supply chains, therefore, the demands on color are very high, and experienced colorists are worth their weight in gold for companies. However, there is no training or course of study on this subject, so we offer courses on the basics such as colorimetry, color formulation, and color assurance in the process, especially for newcomers and career changers.
4 answers means I can still say something without a question, right?

Hefner: That's right. We wanted to do something different, so there's an answer without a question on top.
Mittelberg: I'm really looking forward to the possibilities offered by our model factory and the Quality Training Center, where we have various new devices for color, gloss and surface measurement. I hope that this will enable us to significantly improve our training in the area of color and coloristics. On the other hand, I hope that skepticism about inline measuring technology will recede and that we will be able to support more customers in bringing their quality control from the laboratory directly into the process.
For more information, visit
Research field Non-Destructive Testing