The testing division at SKZ has already been offering climate-neutral testing services since 2020. Customers can choose the way to make their services climate neutral when ordering a service.
May 24, 2023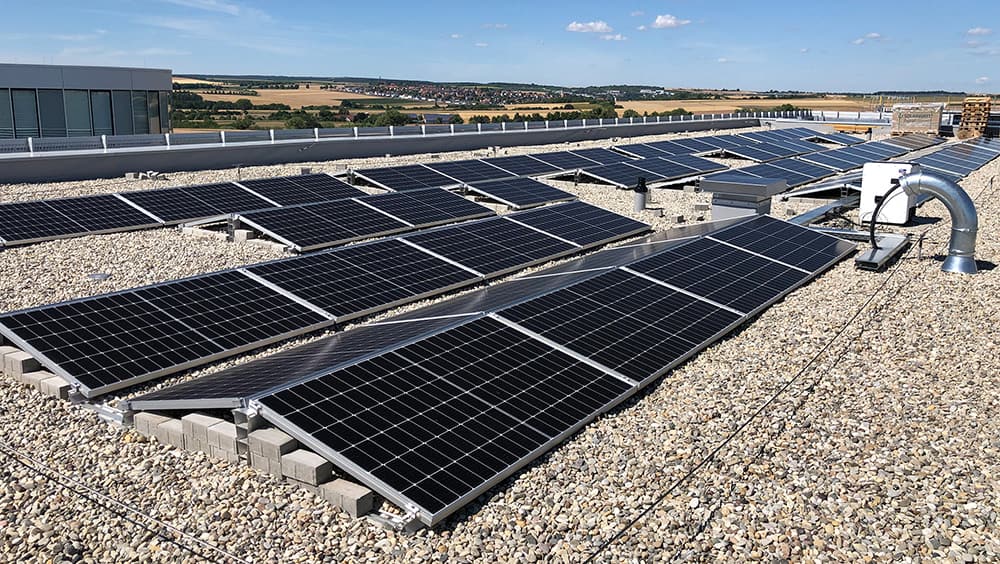 The Photovoltaic system on the roof of the SKZ model factory (Photo: Luca Hoffmannbeck, SKZ)
The SKZ Plastics Center offers customers to make their testing services climate neutral
When considering the avoidance and reduction of climate-relevant emissions, the focus was on the one hand on the site-related "Scope 1" emissions that are particularly relevant for the institute and that arise during the operation of the building and the company vehicles. On the other hand, attention was also paid to the indirect "Scope 2" emissions that arise from the purchase of energy.
The customers of the testing service area can decide at the time of commissioning whether their order should be made climate-neutral on a site-specific basis. This has already made it possible, for example, to purchase a LIVARSA efficiency solution as a measurement and control unit, various charging columns for electric vehicles, and more efficient ovens for the energy-intensive weathering tests. In addition, climate protection projects are supported through the purchase of greenhouse gas emission certificates. When procuring these certificates, preference is given to projects with the so-called "Verified Carbon Standard" from the "Forests and Forestry" category.
In the coming years, the SKZ will also contribute to reducing greenhouse gas emissions with further projects. For example, it is planned to reduce greenhouse gas emissions by connecting some energy-intensive test equipment to the local heating line of the neighboring waste-to-energy plant. Plans are also underway at the Würzburg site to roof the employees' parking areas with solar panels. With the additional low-emission energy thus generated, the institute is making a further major contribution to protecting the environment.
Further informationen about business unit Testing