Since 2023, SKZ has also been offering the course for adhesive bonding practitioners in accordance with DVS 3305/EWS 515 at the Horb site in Baden-Württemberg. The institute is thus responding to the increased, regional demand.
March 21, 2023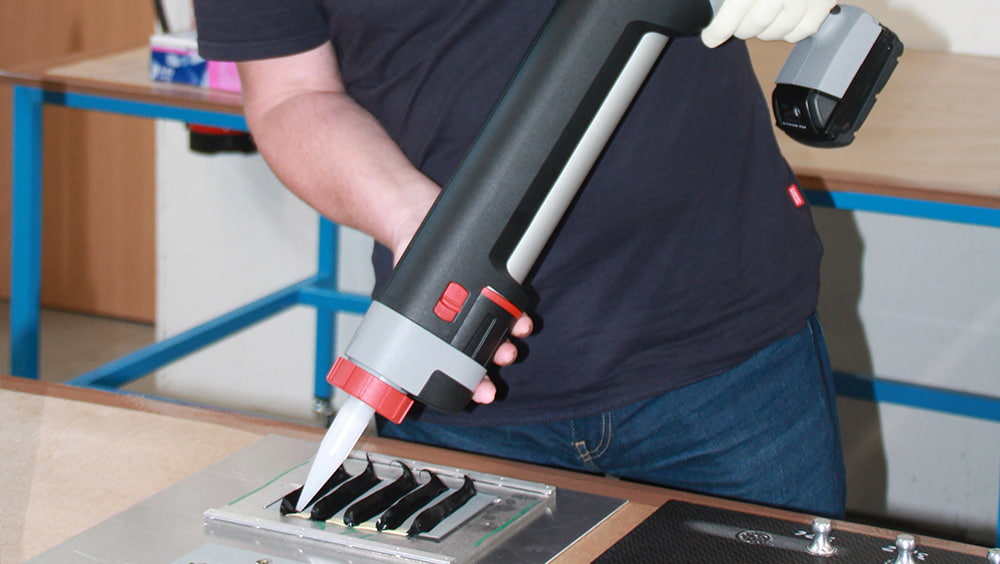 The SKZ course for adhesive bonding practitioners according to DVS 3305/EWF 515 will also be offered in Horb am Neckar this year (Photo: SKZ)
The one-week training course also covers health, occupational safety and environmental protection aspects
As a joining technology, advantageous bonding is now an integral part of innovative industries and can be found in a wide variety of designs. Around nine percent of the adhesives produced are used in automotive production. Unlike thermal joining processes such as welding, adhesive bonding allows not only plastics of the same type but also different plastics or even plastic-metal joints to be joined very well. Likewise, no heat is introduced that could damage or deform the material being joined. Stress peaks or residual welding stresses also do not occur during bonding. In contrast to mechanical joints, the stresses are transmitted over larger bonding areas and have a sealing and weight-saving effect. The greatest advantage of adhesive bonding, however, is the unchanged microstructure and optimum adaptability. The process is therefore becoming increasingly popular, especially for plastics.
For many years, SKZ in Halle has therefore been offering in-service training courses for adhesive bonding practitioners in accordance with DVS 3305 / EWF 515. This offer now also exists at the SKZ in Horb am Neckar. "Due to the many requests, we have decided to offer the course, which has already been successfully held at SKZ for a long time, also at our site in Horb," explains Jürgen Kern, site manager of SKZ in Horb. "In this way, we would like to create the possibility for our customers to minimize long travel times and also to be able to use the SKZ offer close to their location. The target group is primarily the automotive companies located in the region, which must implement the requirement for trained personnel in accordance with DIN 2304.
The training course for adhesive bonding practitioners lasts one week and covers topics such as adhesive types, processing methods and surface pretreatment, as well as health, occupational safety and environmental protection aspects. Practical exercises are also part of the course, as is a corresponding examination. Participants come from both industry and trade, and the training is also suitable for career changers.
Further information about the German speaking course Klebpraktiker nach DVS 3305 / EWF 515